It's that time of the week again, the dreaded laundry day. Even with all the modern conveniences of mega-sized washers and dryers, bottled detergents and ironing, this chore is never enjoyable. Certainly it's easier since the days of a washboard and elbow grease, but only for us – not our planet. So what can we do to make this unavoidable task more Earth-friendly? Plenty comes to mind, but these are the easiest (and less expensive) ways to make this unavoidable task more eco-friendly.
Simply start buying the Earth-friendly laundry detergents. All natural laundry detergents are tough on stains, but gentle on your clothes – and the environment. Not only do these work hard on stains, but companies, like Seventh Generation, specialize in natural products, but are more environmentally-responsible in their business practices.
Here's a unique solution. Soap Nuts Natural Tree Soap are the dried fruit of the Chinese soapberry tree. Pop a few in the reusable cotton sack and toss in with your wash. Courtesy of Mother Nature you'll have clean and incredibly soft clothes.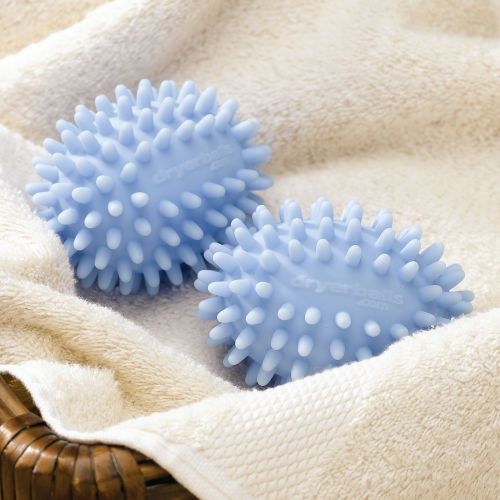 Now that the wash is taken care of, let's move on to the dryer. If you are able to air dry on an outdoor clothesline or have a handy drying rack in your home, that's best considering the amount of electricity is needed to run a dryer. I know the convenience of using a dryer so here's another idea, Dryer Balls. These were designed to reduce drying times and soften fabrics by separating the fabric to allow air to flow more effectively. Okay, so now we're saving on a little electricity. That's not all, these babies will also cut costs on chemical ridden fabric softeners and dryer sheets. You're saving money and helping the planet, what a great concept. Now you have two easy ways to start helping the planet while doing your laundry. Of course there's plenty of other ways to be environmentally friendly when doing this tedious chore, and I'd love to hear what you're doing to make a difference.
Naturally Earth Friendly was born out of a love for everything healthy and good for our bodies and planet. This includes tips to adjust our everyday lives, environmentally conscious efforts we can make and smarter natural products that help make a difference. It's possible to head towards a more sustainable future and we can do it together.